Welcome Letter from Delaware State Society NSDAR
I am pleased to welcome you to the website of the Delaware State Society of the Daughters of the American Revolution (NSDAR or DAR). Our State Society is part of the National Society of the DAR, which is the largest most active lineage-based service organization. Our over 180,000 national members come from many diverse backgrounds. Delaware is a small state but we have six very active, vibrant chapters. The Delaware daughters join with chapters across the nation to encourage and promote the mission of this organization as we rise up in meaningful service to America.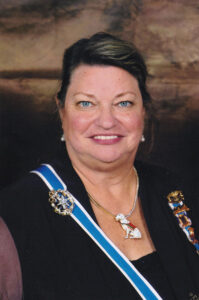 Our members volunteer many hours and offer financial support to their communities.  Members can choose to do the work of the society through the many committees. There is something of interest for everyone. The Daughters are engaged in their communities by conducting American history contests, awarding scholarships, promoting literacy, and supporting the DAR schools for the underprivileged. Members also support Veterans and active military and clean and lay wreaths on the tombstones of our fallen patriots. We sponsor naturalization ceremonies, preserve historic sites, make masks during the pandemic, support women's issues, conserve our environment, and maintain our own historic Maull House in Lewes, Delaware.
Our members form lifelong bonds of friendship with local and national members through fun-filled meetings, state and national conferences, programs, and service initiatives. Although we honor the past, we are working towards improving the future of our Nation.
We would be honored to have you join the Delaware State Society. I encourage you to explore this website, review our mission and the requirements for eligibility, and visit a chapter. Follow the DAR on Facebook and view the national website to introduce you to the work of today's DAR and the dynamic women who are part of our extraordinary service organization.
About Delaware State Society DAR
The National Society of the Daughters of the American Revolution was founded on October 11, 1890, and is headquartered in Washington, D.C.  The DAR is a lineage-based, non-profit, non-political volunteer women's service organization dedicated to promoting patriotism, preserving American history and securing…
Delaware State Society DAR Chapters
Dover – Colonel Haslet Chapter, NSDAR
Georgetown – Major Nathaniel Mitchell Chapter, NSDAR
Lewes – Colonel David Hall Chapter, NSDAR
Newark – Cooch's Bridge Chapter, NSDAR
New Castle – Battell and Read Chapter, NSDAR
Seaford – Mary Vining Chapter, NSDAR
Wilmington – Caesar Rodney Chapter, NSDAR
Scholarship Opportunities
Since 1923, our National Society has been awarding scholarships to help students attain higher education and achieve their career aspirations. Information about our 28 scholarships is provided on both the DAR public and member websites. There are a variety of scholarships for students pursuing different areas of study such as history, education, nursing…